Warren Langley Bio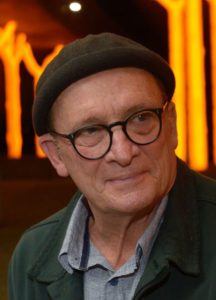 Light art and glass art are terms commonly applied to the site specific public art of artist Warren Langley. In a career spanning over 40 years, the past 20 years has seen an increasing use of light as a principle design element to create public art interventions which undergo day to night transformations. 
Langley's ouvre addresses the notion of sight/site, both visual and contextual and his 40 year portfolio of artworks for the built environment span all manner of materials and processes although it is his large scale works in light and glass for which he is most well known. 
These have involved major projects in locations as diverse as The New Australian Parliament House; the Maison de la Opera, Amiens, France; The Museum of Contemporary Art, Tacoma, USA, the Australian Pavilion at the 2011 Shanghai World Expo and the Hong Kong airport.  This body of work has been delivered for a broad range of government, corporate and private clients concerned with the commissioning of artworks specific to site. 
In 1996 he was awarded a Fellowship by the Australia Council for the Arts and has been afforded international recognition for many large scale works often using glass and light as preferred materials. In 2010  he was a finalist, in the  Art in the Working place category at the International Architecture Symposium in Barcelona. 
His public artworks integrate and intervene with the built environment as a site specific component and increasingly his work blurs the boundaries between sculpture, architecture and engineering. 
All of Langley's projects are delivered as a design, fabricate, deliver and install package and utilise the skills of a team of engineer's, project managers  industrial designers and fabricators who underpin his public art projects. Together, this team has developed a reputation for reliability, ability to deliver unfailingly on time, problem solve on all levels of a project and competently involve themselves with all manner of colleagues, stakeholders, consultants and other professionals.